When you think of California's wine country, you might think of the Napa Valley. While there is truly delightful wine tasting north of San Francisco, if you travel just 35 minutes east of the bay area, you'll find a hidden gem. One filled with charm, kind-hearted people and of course, amazing wine. Nestled in the Tri-Valley is the Livermore Valley Wine Country where Livermore wineries reside. As a solo traveler, you could surely get lost in activities in the abundance of beautiful scenery all around you. It's a great escape from the hustle and bustle of city living. You truly feel like you're elsewhere.
Wente Vineyards a Staple in Livermore Wineries
Among the various Livermore wineries, is Wente Vineyards. One of the oldest wineries in California, the family built the vineyard in 1883 when C.H. Wente, a German immigrant, settled in the Livermore Valley with 47 acres of vineyard land and built a winery. The Wente family continues to carry on the fascinating tradition of producing great wines, even generations later. California's first family of Chardonnay's, over 80% of all California Chardonnay stems from the Wente Clone today.
On a visit with The Los Angeles Wine Writers, I got an exclusive tour of this luxurious Cresta Blanca property in detail. The sprawling acreage offers lush greenery, wine tasting rooms, a garden, a restaurant, and a spacious event area.
Because of how the valley is situated, Livermore wineries get the coastal fog and cool ocean breeze from the bay that makes Livermore Valley Wine Country ideal for winemaking. In September you can visit Wente and feel what a real Fall day may be like. Cool and crisp air makes a day at this vineyard like a real autumn season, unlike typical California weather.
The Restaurant at Wente
While on our wine tour, we were led to the Wente garden where we met with Diane Dovholuk, their Master Gardener. She, like the entire Wente family, has a deep love for her work and we got to witness this in the incredible dinner set for us at the restaurant. Learning that The Restaurant at Wente focuses on sustainable, local, and organically grown ingredients made the thought of eating there much more special. 
If being treated to a grand feast was not enough to make us feel like family, we were seated to have dinner with Phil Wente, a 4th generation winegrower. As we gathered in a circle with Phil at the head, we learned quickly he is a man rich in wine knowledge but also rich in personality. Considered the "Wine Godfather" by many with great influence on the valley, he's also modest. He graciously takes little to no credit for the success Wente Vineyards has as being one of the top Livermore wineries. 
The Menu
The produce we enjoyed that evening was straight from the garden. I and another wine writer shared the pork chop and the Truffle Risotto which were both divine and a highly popular item on their seasonal menu.
All of our wines paired beautifully with each course. A few of my favorites were the 2015 small lot blend, GSM, the perfect combination of fruit and oak qualities. As well as the 2015 Nth Degree Pinot Noir. This is 100% pinot noir and has ripe blackberry that will make your mouth water thinking about it.Though you may not be having dinner with Phil when you visit, this is the type of experience you can expect while dining here. The service is top notch from appetizers to dessert wines!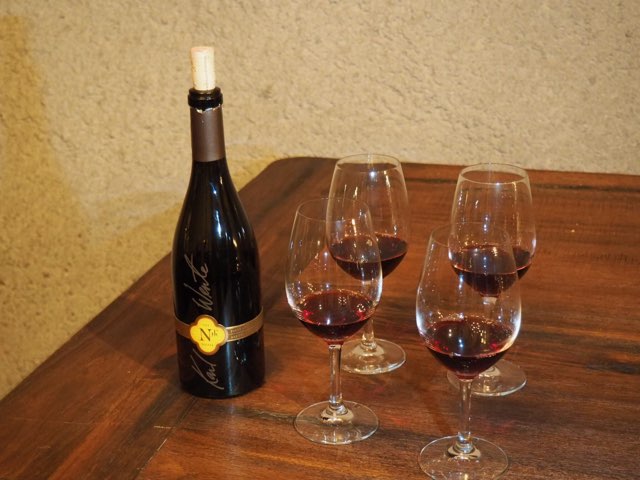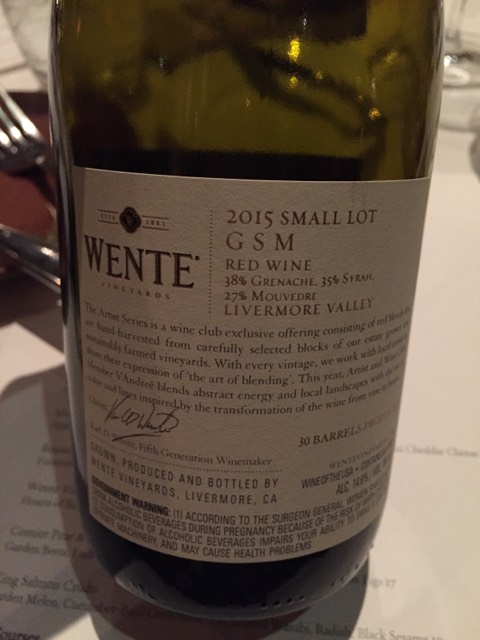 After our dining journey to food heaven, we got to meet Executive Chef Mike Ward who spoke passionately about the meals prepared for us. It was a clear reminder of how love can speak to you through food. 
We were all enthralled with the experience of luxurious dining, the finest wines, and clinging to every piece of history Phil was describing to us. It was quite a night, to say the least.
Plan your Visit
Wente Vineyards has many factors that make this a must-visit. From the superb quality of their wines, the farm-to-table dining, to even their summer concert series. It's quintessential wine country.
The Tri-Valley consists of Livermore, Pleasanton, Dublin, and Danville. All are worth adding to your list of places to visit in addition to the list of wineries in Livermore Valley Wine Country. It's easy to get to this area whether driving in or by plane into the Oakland or San Francisco airport. There is no shortage of unique attractions here that will leave an impression on your heart. One that will bring you back time and time again. It will feel, unlike any other trip. This one-of-a-kind area is so remarkable, you'll swear you've traveled to another time.  An awe-inspiring time where rich history in California roots is not only present, it's celebrated.